ASGCT
The American Society of Gene + Cell Therapy 
The American Society of Gene + Cell Therapy (ASGCT) hosts an Annual Meeting where thousands of scientists, researchers, and executives come together to network and present their ideas and findings. Each year, this highly anticipated event is held in a different major city. ASGCT was so pleased with Savage's work on their brand identity, that they call us back every year to build a unique, custom brand for their Annual Meeting.
Scope
Brand Identity
Event Branding
Graphic Design
---
The Client: ASGCT
ASGCT is the primary professional membership organization for scientists, physicians, patient advocates, and other professionals involved in gene and cell therapy research. Established in 1996, ASGCT is on a mission to control and cure diseases with the clinical application of genetic and cellular therapies.
The Challenge
A Fresh Brand… Every Year
Every year poses an exciting challenge for the Savage team to get attendees amped up for the Annual Meeting. This short-term brand work calls for a unique sense of freedom to explore different routes. The main challenge? Coming up with a fresh idea each year, while still maintaining the integrity of ASGCT's core brand identity.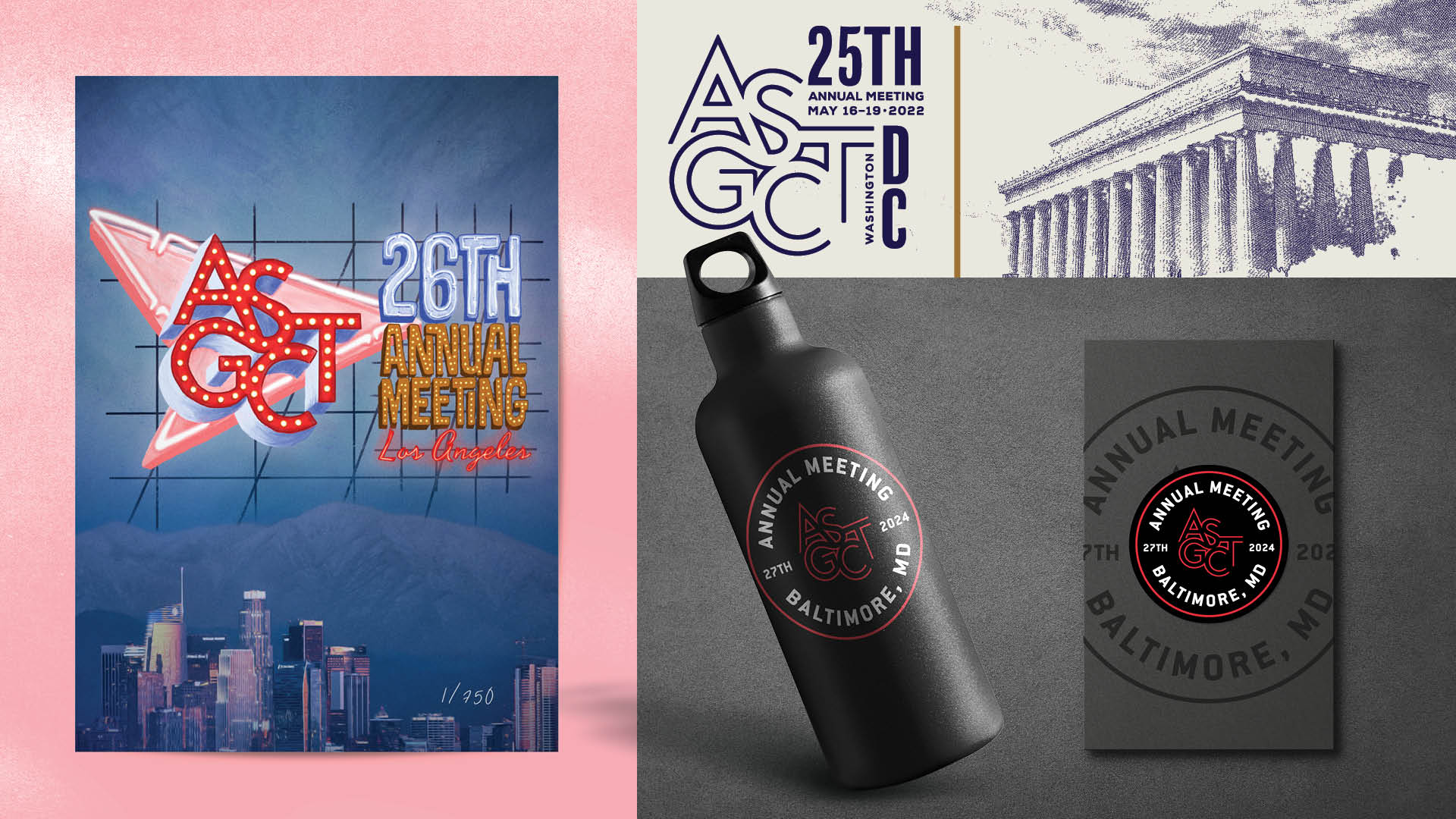 The Strategy
Location is Key
From Washington D.C., to Los Angeles, to Baltimore, we've designed brands for ASGCT events across the country. Our strategy? First and foremost, honing in on the location.
Once we know the major city in which the Annual Meeting is being held, we dive straight into research—pulling inspiration from the city's landscapes, history, residents, and culture. We then create a logo, typography, and color palette that honors the city's hidden gems and pays homage to ASGCT. 
For example, this year's Annual Meeting was held in Los Angeles, California. We built a brand heavily influenced by the "Googie" era (think Jetsons), an iconic futuristic architectural style that turned up in the 1950s and early 60s in LA. Graphic elements such as starbursts and boomerangs inspired the design of the event's logo, with a specific color palette that used existing ASGCT brand colors mixed with shades of a beautiful LA sunset.
The Result 
One Step Closer to a Cure
From coast to coast, the ASGCT Annual Meetings have brought scientists together to expand their knowledge on their life's passion. It's an honor to be able to set the tone for the year and use creativity to help fuel excitement for these Annual Meetings—where researchers continue to innovate the world of medicine through genetic and cellular therapies. 
Through invitations, merch, and signage, these custom event brands get more professionals to attend the Annual Meeting than ever before. In fact, Los Angeles's event set the record for hosting over 7,900 attendees! We're already looking forward to next year's project.