Greco & Sons
Your Recipe for Success
Greco & Sons is a specialty distributor of world-class pizza and Italian food products. As business began expanding across the nation, they feared losing touch with their family values and old-school hospitality. So, they called on Savage for a refreshed brand, voice, and website to honor their Italian roots.
Scope
Brand Architecture
Brand Identity
Studio
Website
---
THE CLIENT: GRECO & SONS
Since 1990, Greco & Sons has delivered their world-class Italian food with pride. They exist to inspire old-fashioned connections and treat everyone like family. Because families that eat together, stay together.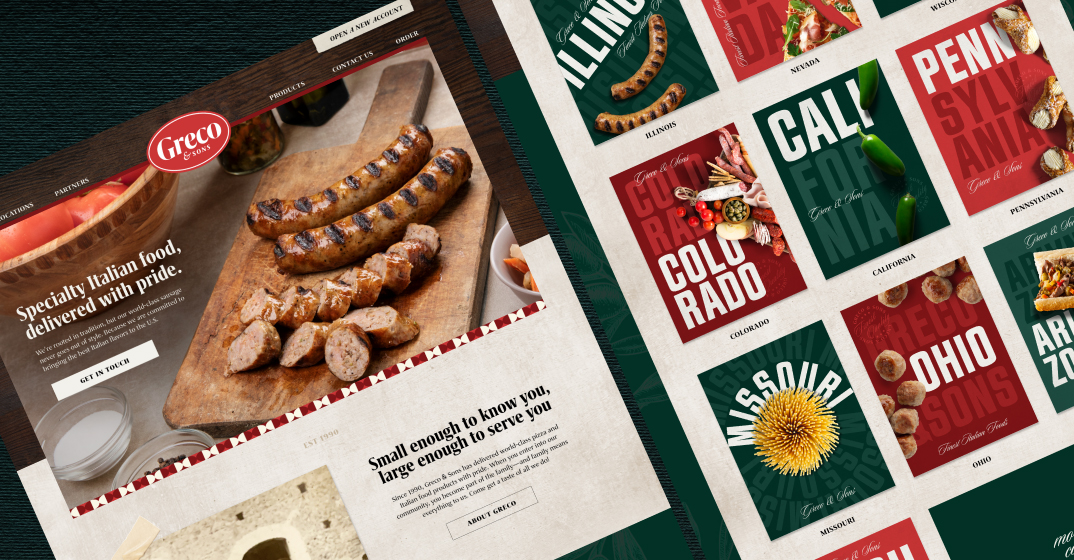 THE CHALLENGE
Staying true to their roots
When we first met the Greco family, they had recently partnered with Sysco, the world's global foodservice leader. As they ventured into a larger territory of business, they worried that their family-owned company wouldn't seem like a family anymore. 
Greco & Sons' relationships are as authentic as their food. Even as their company grows, it was our job to show the world that their old-fashioned values, high-quality products, and uniquely personal customer service remain ever-present in their operations.
The Strategy
Small Enough to know you, large enough to serve you
Once you enter into the Greco circle, you become part of the family. Our strategy? Blending that charm of tradition with the refinement of a modern brand.
It started with a slight tweak to their logo–just enough to clean it up, but not enough to stray from their humble beginnings. We built brand architecture around the Greco family's commitment to their relationships. All messaging and design pays homage to their customer-centric values. 
Next, we put a contemporary spin on their website. Our approach to attracting more customers was to make the site as navigable as it is beautiful.  
The Savage team went to work on new photography and strategic design, showcasing a classic Italian look with a modern flair. Lucky for us, it wasn't hard to make their sausage look as good as it tastes. Their stunning array of world-class products truly speak for themselves. 
The Result
Specialty Italian Food, Delivered With Pride
At the end of the day, everyone at Greco & Sons has a passion for what they do, the foods they serve, and the relationships they've formed along the way. Now they have a brand and a website that truly represents that.
We've proven that the Savage team partnering with the Greco family is a recipe for success. So much so, that we are continuing our work with them on product branding, photography, and video production. 
From loyal customers to prospective partners, it's time for Greco to share the finest, freshest, and most authentic food with more people than ever before!