Husco
Forward Thinking Moves Husco Forward
A giant in manufacturing advanced components for the off-highway and automotive industries needed a sophisticated brand to communicate their revolutionary work. They called on Savage for a new logo—and got a whole lot more.
Scope
Brand Identity
Interior Design
Website
---
The Client: Husco
Husco International is a worldwide manufacturer of high-precision bespoke fluid control components for off-highway and automotive equipment. In layman's terms, they make machines smarter with innovation, excellence, and integrity. However, for as cutting-edge as their technology and thought processes are, their current brand wasn't cutting it. 
Having collaborated with Savage before, regarding his philanthropic involvement with St. Augustine Preparatory Academy and the Ramirez Foundation, Austin Ramirez had faith that we were the right team for the job.
The Challenge
Rebranding a Global Company
It didn't take a team of engineers to figure out that our greatest challenge would be Husco itself. Aside from blowing our minds with their out-of-the-box thinking, they were in the process of a massive expansion. 
Because building a brand for one location on one continent isn't challenging enough, let's get buy-in from employees around the world. Proudly HQ'd in Waukesha, Wisconsin, this family-owned company has offices around the world, from the Midwest USA to China, India, Brazil, England, and Germany. 
The Strategy
Honing the Cutting-Edge
Husco's values include Intelligent Risk-taking, High-performance and Practical Innovation. They're not just words on a wall; they implement them in everything they do. 
We took all of this into consideration as we started conceptualizing not only a new logo, but business collateral, a website, and later, interior design. 
The logo we created represented Husco's agility, fluidity, strength, and innovation. We used it to lead the design of their website and create a fine art centerpiece for their lobby. This high-tech visual storytelling experience sets Husco apart as a world-class place to work and a company to work with. We're talking about the Husco "smile", an approximately 1500-pound 3-D steel structure with projection-mapped videos playing on either end. 
Their website serves the dual purpose of showcasing their high-precision abilities to customers (complete with a distribution portal) and presenting Husco as an attractive career opportunity. 
The Result
High-Performance Brand for a High-Performance Company
What started as a new logo evolved into a full rebrand, including the development of a dual-purpose website and complete interior design of their corporate headquarters, including a 3D sculpture displayed proudly in their atrium. Husco HQ loved their brand so much, they sent our Chief Creative Officer around the globe to implement the Husco design elements into their international facilities! 
Husco's had a solid foundation since its groundbreaking in 1946, but now with a brand that finally represents their innovation and intelligent risk-taking, they're looking forward to seeing how they can combine creativity and technology to push boundaries on a global scale.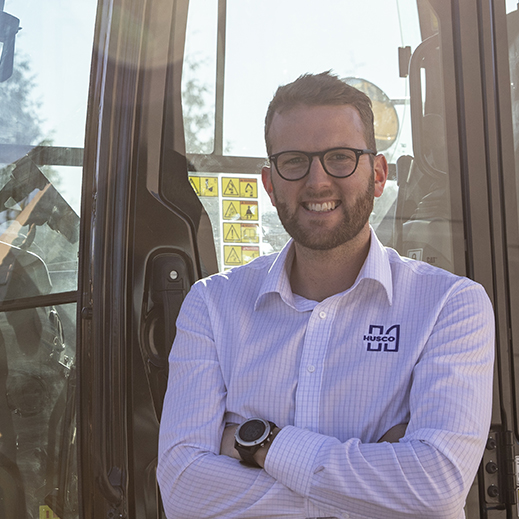 We worked with Savage as a team to push each other forward with good, open relationships and exchanges of information. We have many strong partnerships here at Husco. Working with Savage is one of these partnerships."
Simon Yardley,
Director of Strategic Business Development and Marketing