Terra Localizations
Localization by gamers, for gamers
Terra Localizations, the powerhouse woman and minority-owned organization, goes above and beyond your average video game translation system. Wielding their expertise in linguistics, technology, and creativity, the Terra Localizations team unlocks tailor-made solutions to video game companies seeking a global audience. They partnered with Savage for yet another brand refresh after the success of their sister company's rebrand, Terra Translations, back in 2020.
Scope
Brand Architecture
Brand Identity
Website
---
The Client: Terra Localizations
Video games offer so much more than entertainment. They offer escape. Adventure. An opportunity to connect with people from all walks of life on this great big awesome planet! 
That's why Terra Localizations is on a quest to make video games accessible across the globe—regardless of language of origin. As avid gamers themselves, the Terra team is equipped with linguist experts, tech-savvy engineers, and a whole lot of video game knowledge.
Since 2008, Terra Localizations has localized hundreds of games to make every gamer feel like the main character. Why? Because players around the world deserve to feel immersed and connected in their game. By wielding diversity and inclusion as their not-so-secret weapons, Terra Localizations is vigilant in leveling up the video game experience for all cultures, genders, and languages.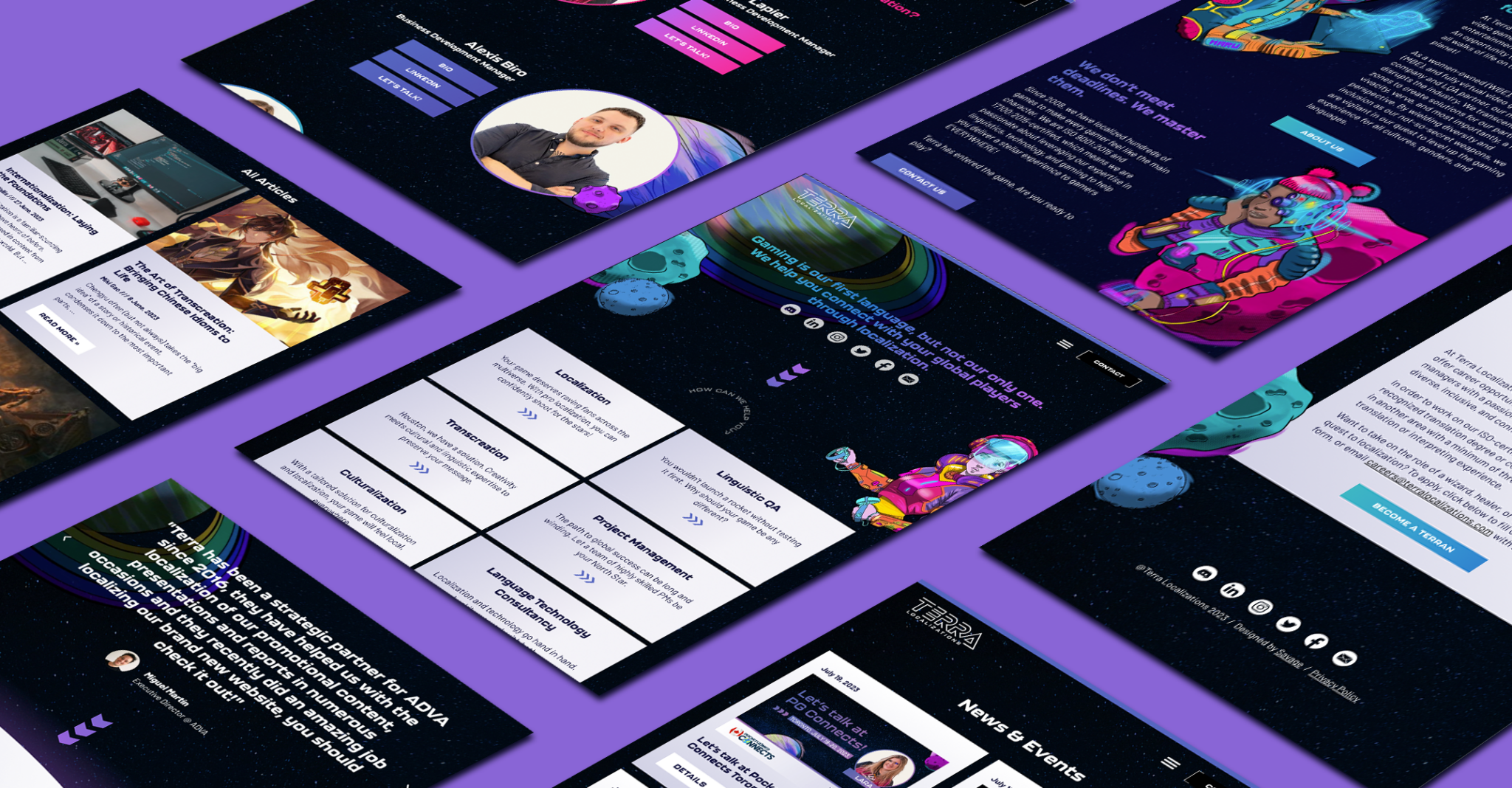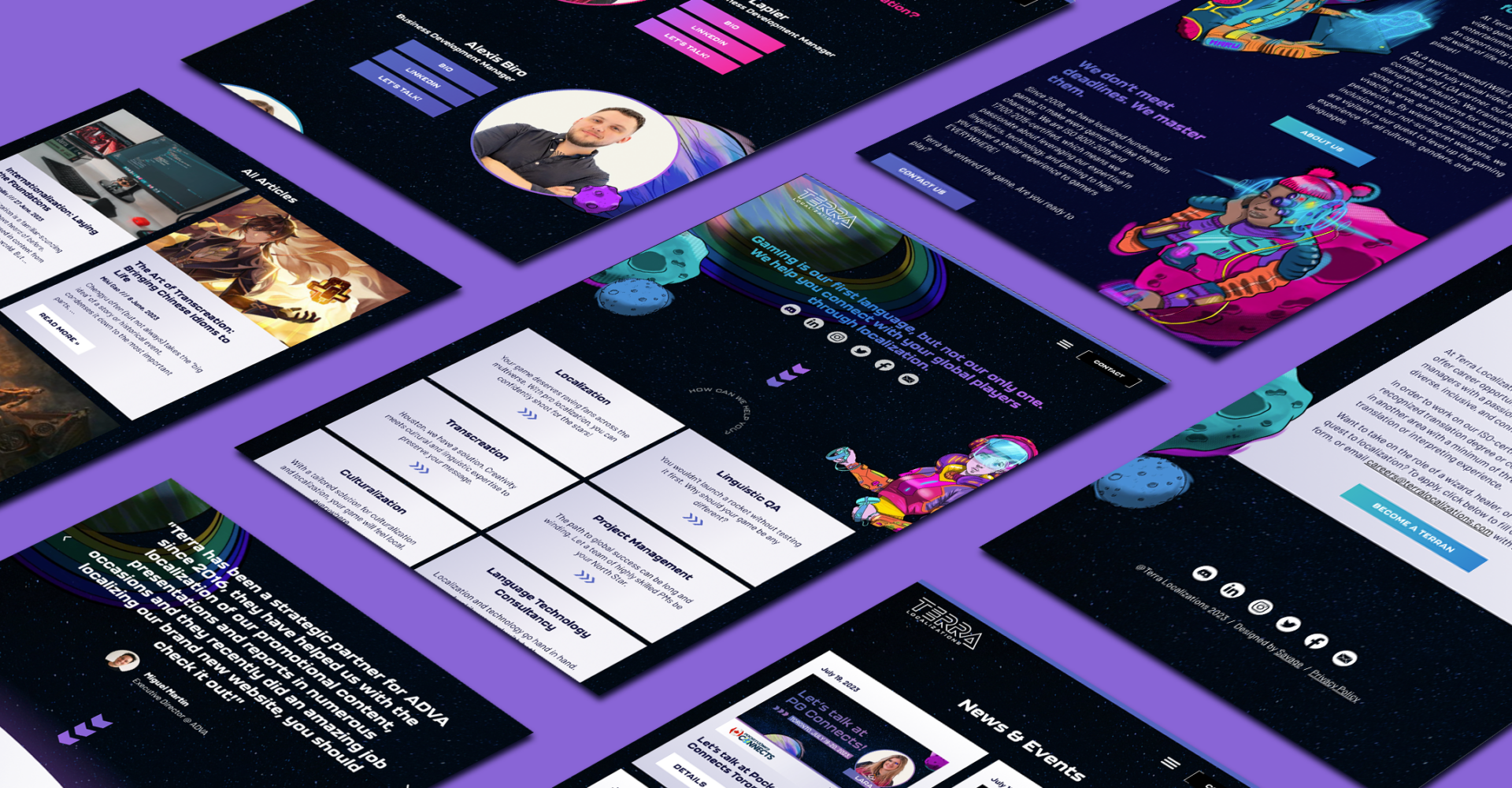 The Challenge
Lost in Translation
Video games can be full of jokes, riddles, slang, and references that cannot be translated word-for-word. Computers don't have the human brain power to build out translations for niche gaming lore. It goes far beyond the text itself—that's why Terra's multilingual localization experts are endlessly open to creativity, authenticity, and understanding the essence of cultural nuances. 
Global gaming is a fast-growing industry. Luckily, Terra Localizations' team and service offerings are only getting stronger every day. They needed a revamped brand and website to showcase their multilingual word wizardry, creative approaches to culturalization, and true love of the game.
The Strategy
Combine Creativity with Expertise
In order for localization to be successful, creativity must meet cultural and linguistic expertise. Our strategy was to highlight the Terra teams' storytelling superpowers with a clean brand that was both compelling and professional.
It started with a slight tweak in their logo, making it appealing to gamers, yet readable for global audiences. We built brand architecture around messaging and design that exuded Terra's sheer passion and authenticity—two things that are often missing from their industry. 
When creating Terra's new brand identity, we fell in love with their already-existing illustrations. The vivid, eye-catching colors of the artwork contrast perfectly against a dark, starry-sky background—paying homage to outer space. We translated this refreshed look into an interactive website, where visitors can immerse themselves into a galactic world—similar to playing a video game.
The Result
Welcome to the Terrasphere
From cosmic-inspired illustrations to space-themed messaging, Terra's new website flaunts their out-of-this-world localization work and attracts new partners by virtue of quality, uniqueness, and expertise. 
Marina Ilari, CEO of Terra Localizations, stated, "I'm very excited for everyone to see our new brand refresh because it represents Terra Localizations and our spirit of innovation so well." 
They even featured us in the brand launch story and video.
Terra has entered the game. Are you ready to play?