Bublr
Pedal Forward, Milwaukee
When Midwest Bikeshare, Inc. was ready to launch their non-profit bike share program, they needed a brand that would resonate with potential supporters in the Greater Milwaukee Area. We designed collateral, bike stations, van wraps, and a website, then gave them a new name inspired by a uniquely Wisconsin word. Perhaps you've heard of it.
Scope
Brand Identity
Naming
Studio
Website
---
The Client: Bublr Bikes
Bublr Bikes is Greater Milwaukee's nonprofit bikeshare program that makes our vast city feel a little smaller by offering residents and visitors an accessible, convenient way to get around town. 
Bike sharing helps move people and communities forward, and Bublr Bikes is no exception. With low-cost options that range from per minute pricing to annual memberships, riders are encouraged to pick up a bike at one station and return it to another within the city's network, including West Allis and Wauwatosa.
The Challenge
Must Vibe with the Locals
At the time, bikeshare was a fairly new concept in the U.S. With competitors like Divvy, Hubway, Capital Bikeshare and others, we knew we had to come up with something that would be unique to Milwaukee. But there's more to naming than that. It also had to be fun, memorable, and mean something.    
Hello, Bublr. 
Find a word more Milwaukee than "bubbler." A bubbler, or water fountain as the non-locals call it, is a place where people gather and socialize. Hey, that's exactly what the bikeshare program is designed to do!
The Strategy
Lead with Connectivity
With a name that was as good as gold, we could start on designing the brand. Central to our philosophy was the idea of connecting people. 
Take a look at Bublr's bubbly logo. More than just a fun play on words, it's inspired by how bubbles cluster together, and how that translates to communities blending into one another to create a larger network. 
Savage designed every aspect of the bike as well as docking stations, the Bublr truck, business cards, and other collateral. We also built a fun website showcasing a simple Milwaukee skyline that Bublr could utilize while they were out and about in the marketplace gaining community support.
The Result
An Iconic Brand that's "Ride On"
Bublr Bikes is now an iconic brand for the City of Milwaukee. In fact, people embrace it so wholeheartedly that they're even incorporating the signature blue bikes in their engagement photos! 
Most importantly, however, Bublr Bikes offers a healthy and sustainable mode of transit that complements Milwaukee's existing public transportation networks to enhance mobility, wellness, economic development and quality of life.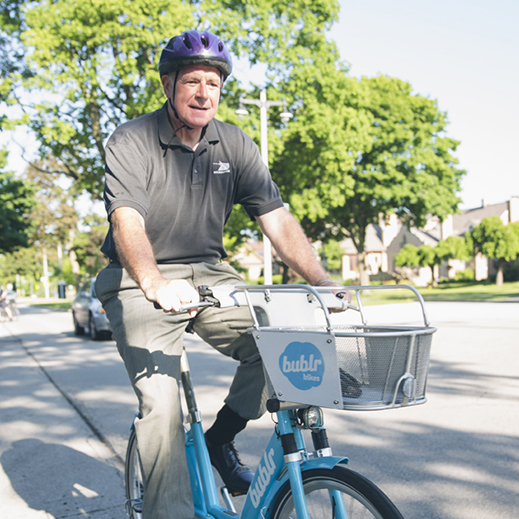 One of the best brands I've ever seen Milwaukee do."
---
Up Next
Pat Connaughton Foundation