Pat Connaughton Foundation
The Pat Connaughton Foundation Proves that Basketball is More than a Game
Never have we ever…built three brands, while our client was a little busy winning the NBA championship. Oh wait, yes we have. In 2021, Milwaukee Bucks player Pat Connaughton engaged with Savage to get the ball rolling on rebranding his non-profit organization that teaches kids healthy habits and translatable life skills through the vehicle of basketball. 
Scope
Brand Architecture
Brand Identity
Naming
Website
---
The Client: Pat Connaughton Foundation
Founded by Milwaukee Bucks champion Pat Connaughton, the Pat Connaughton Foundation is all about giving back to the community and paying it forward to the next generation of athletes. The organization uses basketball as a vehicle to teach kids not only fundamentals of the sport, but translatable life skills that will help them achieve success on and off the court. 
The Challenge
Shooting at Too Many Hoops
When Pat was introduced to Savage through a mutual friend, the first thing we uncovered was that there was a complex but inspirational story to be told. The foundation did a lot of things—they were running camps and clinics, installing basketball courts, and looking at potential membership and scholarship opportunities. We just needed to figure out how to best present and communicate it all.  
But their mission was there. Everyone on the team agreed that the mission of the foundation is to inspire and motivate young athletes to put their dreams into action—whatever their dreams may be.
Once we broke down their goals and offerings, we discovered that what we initially thought was one brand, was actually three: the parent company, a sub-brand to encapsulate camps and clinics, and another sub-brand to encompass court installations and refurbishments. 
Equipped with this new knowledge, Savage set to work building three separate brands, keeping two important things in mind: 
The brands had to look and feel like one family 

The brands had to appeal to both donors and kids
The Strategy
All in the Family
Building Brand Architecture is always a surefire way to get everyone on the same page. Through our collaborative Brand Architecture workshop and interviews, we developed a brand positioning statement, core values, voice, and most importantly—a story.
We looked to Pat and the PCF team for feedback and insight on visual direction. This led to creating logos that were elevated and professional for the Pat Connaughton Foundation parent brand, which would primarily be used to communicate with donors. The camps and clinics, housed under the brand 24:UP—named for Pat's philosophy of maximizing the 24 hours in every day, and the idea that everyone has "unlimited potential,"—is more youthful, energetic, and inspired by graffiti. Connaughton Courts has elements of both 24:UP and the Pat Connaughton Foundation brands.
The Result
Three brands. One Awesome Organization. And One Incredibly Cool Story to Tell.
Their new website went live just after the New Year, and Pat and team are ready to get the ball rolling on camps, clinics, and court development. Young athletes and their parents can consult the event calendar and see when 24:UP is coming to their community, and anyone can nominate a facility for a court installation or refurbishment.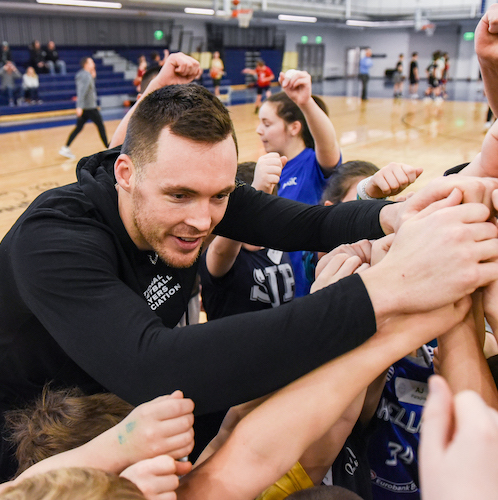 The whole branding process was fun and insightful. I'm confident in the outcome, which is a simple, unique, and powerful brand that gives us a competitive edge."
Pat Connaughton, President
---
Up Next
Pinsa Romana America